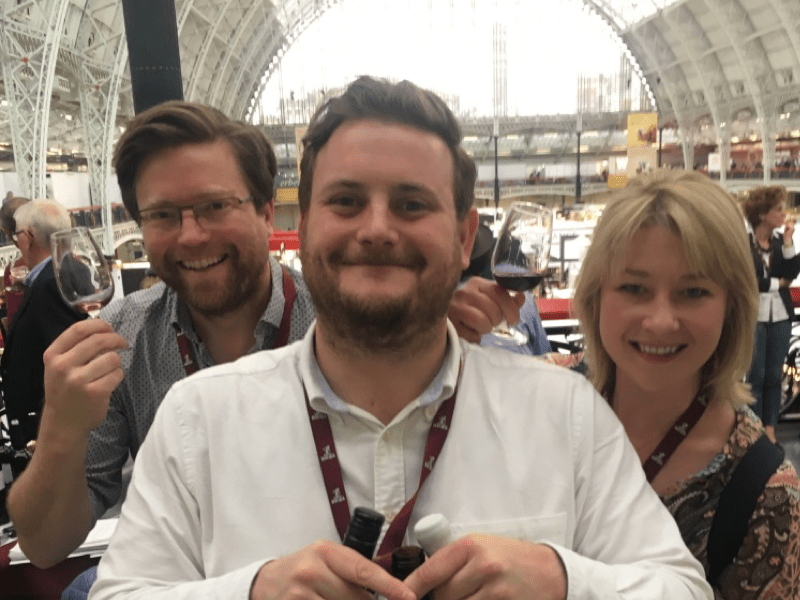 Tim Wildman MW, director of James Busby Travel in the UK, reports from the London Wine Fair on some good news for Australian wine producers.
Tilley's Wines
The London Wine Fair (LWF) has been re-energised since it returned to its central London home at Olympia a few years ago, and the renewed interest in Australian premium wine was evident as I went around the show talking to producers, importers and buyers. 
Although the inexorable rise of Prowein has taken much of the international trade interest away from the LWF in recent years, the fair still acts as the main focal point to meet and do business once a year. I was pleased to see a larger-than-usual number of small, artisan Australian producers represented in the UK for the first time, often by a new breed of small, boutique importers.
As the big end of town (in terms of import and distribution) continues to consolidate (just google Conviviality plc) this inevitably opens up space at the bottom of the market for smaller, more nimble, service-orientated operators to come in.  
I met for the first time yesterday a number of these new players, including Wanderlust Wines (who've just taken on Oliver's Taranga), The Knotted Vine (Koerner, Architects of Wine, Ministry of Clouds), Tilley's (Samuels Gorge, Bondar) and Walker & Wodehouse (Some Young Punks, Vine Mind).
One of the reasons Australia suffered its 'lost decade' in the UK in the mid 2000s was the very simple fact that sales reps weren't waking up on a Monday morning with a bottle of wine in their hand that they were truly excited to show not just to their customers but their friends and trade colleagues as well, and then also to drink themselves at night. 
The Knotted Vine
The list above gives an indication that the wines that are exciting somms across Australia from Perth to Sydney are now reaching these shores, and this will only help fan the flames of interest that have been growing for the past couple of years. To any Australian producer who thinks the UK is simply too hard or too competitive, think again. This is a mature market with a long history, affinity and love for Australian wine, which is now back on the radar of restaurants and independent retailers alike. 
Of course no one will be selling containers and getting rich like in the 90s, and if you want to keep the shirt on your back, avoid dealing with the supermarkets. But if your volume expectations are realistic, you're happy to achieve positioning over volumes, and you're prepared to invest good old fashioned shoe leather supporting sales in the fragmented yet fertile on-trade and independent retailers, then you'll be pushing at an open door in the UK right now. There are also a raft of new, smaller importers hungry to differentiate themselves and take on contemporary Australian wines with a personality and story.
The Australian theme continued into the evening as a group of us met for the annual James Busby Travel London Alumni Reunion. The Busby Alumni Community now stands at 114 wine trade professionals from all around the world, and the Alumni Reunions, which I hold in Shanghai, Hong Kong and London each year, are an opportunity for alumni who've been on the trips in the past, and travellers who'll be coming on the trip later this year, to get together, bring some smart bottles from the wineries they visited and share an evening of pro-Australian conversations and wine. 
Last night's reunion was held at Vinoteca Soho, whose Australian wine list has grown exponentially since both the owners have been on the Busby trip (in 2012 and 2015). As one Victorian winemaker who came to a London Alumni Reunion dinner a few years ago said, "I always thought it was just a wine tour, now I can see it's a movement."


Wanderlust Wines
Beyond the bottles and brands, it always, as in all things, comes back to people. Australia's challenge is to build a community among the younger generation of trade who have a positive experience and association with Australia and its wines, and that's exactly what the Busby trips and Alumni Community are all about.
I spoke to a number of importers and retailers who are already making plans for the Women in Wine event that Wine Australia will hold here in September. Heck, I'm even planning on sending a couple of pallets of my own South Australian pét-nat over here next year, so I'm putting my money where my mouth is.  
Probably the most telling conversation I had yesterday was with the buying director of Berkmann, the UK's fourth-largest importer, and still a family owned business. They represent a number of Australian brands, but my friend admitted that one brand in particular, a cool climate Victorian producer of Pinot and Chardonnay, had been pretty hard work and slow moving for the past 10 years. However, in the past 12 months, customers have been suddenly clamouring for it, having shown scant interest over the previous decade. 
New stories, new wines and new distributors will always gain traction in the market thanks to novelty, but if an established brand with one of the country's largest distributors is suddenly taking off, for no apparent reason, that's the real canary in the coal mine and a sign that the market is once again moving in Australia's favour, for the first time in almost 15 years.

Busby-Alumni Reunion at Vinoteca, Soho